Have you ever wondered why handloom sarees create a craze among saree lovers? One reason could be that these sarees represent the cultural diversity of India and are equally versatile for styling. The land of rich diversity also has its share of festivities throughout the year held in different states. A majority of these celebrations are based on communities and religions, making the handloom sarees a must-have in every woman's wardrobe.
Are you also searching for some unique handloom cotton sarees? You have come to buy handloom cotton sarees. You heard it right! Dora By Phoenix is the name you can trust for acquiring multi shades and designs of handloom sarees. Thanks to our Founder Ms. Kakali Biswas, the woman entrepreneur behind the brand who has been making waves with the most incredible collection of cotton sarees in her boutique in Kolkata. We have a collection of sarees that are handpicked from the artisans across the country and represent the pride of India.
Here is why you can choose handloom cotton sarees for women to drape during the festivities.
Reasons to choose handloom cotton sarees for Festivities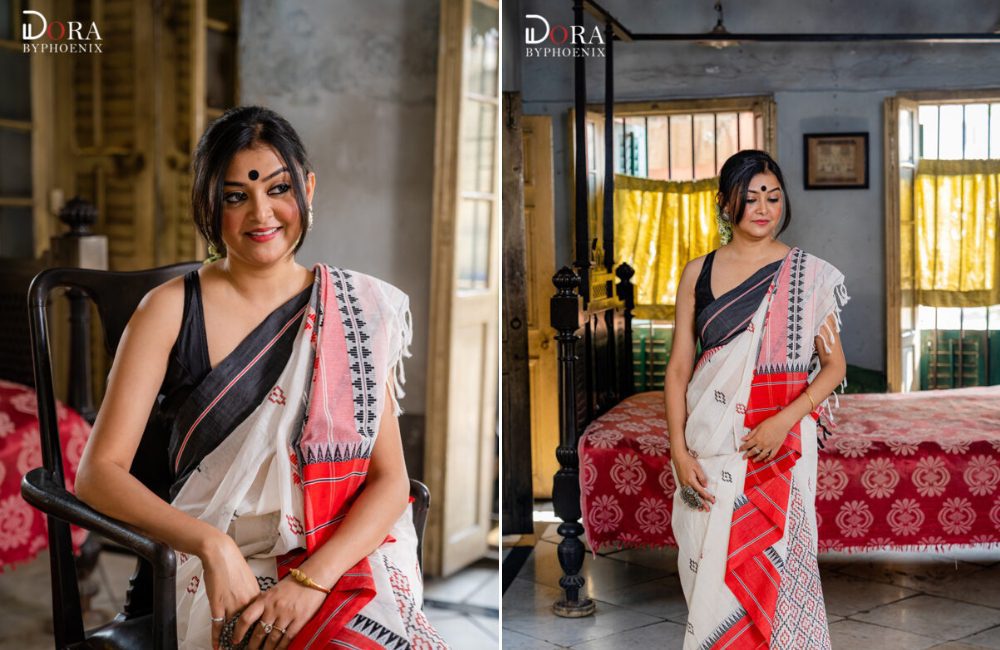 Handloom and festivals go hand in hand

What other saree can embellish the grandeur of festivals than the handloom cotton sarees? No matter which states you belong to, getting a hand-woven saree showcases the essence of the occasion. Be it summer or winter, hand-woven sarees bring out the true colour of the festival and its essence that has evolved through the years and represents the traditional aspects of India.

Hand-woven Begumpur cotton in red, white, and black with block prints all over is one of the best choices for festivities in Bengali households held throughout the year. If you are searching for Bengal cotton sarees in Kolkata, this can be one of the ensembles you will treasure.

High on comfort

Given that India is a land with eight to nine months of summer, handloom sarees are the preferred attire for every woman. Especially during festivities, when the womenfolk of a household stay engaged in work throughout the day, it is hard to compromise the comfort of cotton. The unique prints and designs on hand-woven sarees add to the glory of the attire and the festival as well.

Many Indian festivities fall during the scorching summer months and that is when you remember us. Our hand-woven Dhonekhali Taant Saree with yellow taxi screen prints all over is a perfect collection to flaunt during the festivities of Bengal or any other state.

Play with colours

Indian festivals are not just about those unique festivals but are occasions where colourful vibes can be seen all over. Wearing a handloom cotton saree is a true representation of the cultural mix that India nurtures. The Tape Jama Green Saree is incredible hand-woven cotton attire to add colours to festivities and occasions.
Are you searching for a Kolkata saree online to sport during the festivities? At Dora By Phoenix, we have handloom cotton sarees that are created by the artisans and represent the cultural traditions in-depth. Grab your piece before the stocks run out. Send in your booking requests to info@dorabyphoenix.com today and get your favourite handloom sarees delivered at your doorstep.