They say, 'Winter isn't the ideal season for saree lovers'. And we say, 'Think again'!
The chilly weather should not keep you away from draping the six yards of grace. So, why not think outside of the box and try out some of our quirky prints on Begumpur cotton. Yes, you heard it right. There is no better saree to turn to this winter than printed Begumpur cotton sarees from Dora By Phoenix. Drape for your regular office wear or keep them aside for occasions. We present for you timeless and classic piecesof extraordinary elegance to complement your winter attire.
Sharing 5 sarees to look stunning this winter when shopping printed cotton sarees online.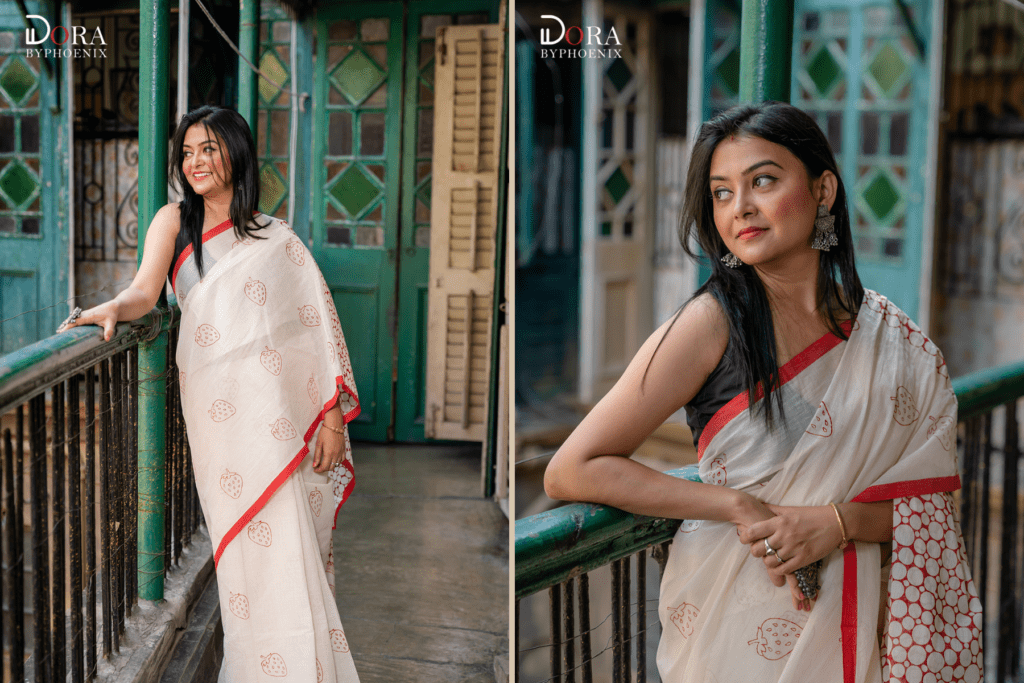 Strawberry Block Prints on Begumpur Cotton

As you step into the season of comfortable sweatshirts and luxurious jackets, it's time for saree lovers to try this superior hand block print saree on Begumpur cotton with strawberry motifs. It is a perfect saree to flaunt in the evening or for the day brunches and yet stay comfortable. The strawberry motifs bring in the wintery cheer through this saree combining red and white shades graciously.

Dog Screen Print Saree on Begumpur Cotton

To amp up your look this winter and stand out in the crowd, get this cutesy screen print saree online. We all are lovers of the stories of Tintin and his man dog Snowy. Revive the same love for this saree with the invigorating yellow and white shades complementing each other. Accessorise with a blazer if you want to beat the chilling cold. This screen print saree on Begumpur cotton is for those who love to experiment with winter attires.

Grapes n Wine Screen Print on Begumpur Cotton

Saree lovers have a reason to rejoice this winter with this Begumpuri cotton saree with screen prints you will love. Wear this saree for your housewarming party or get-together at home during the winter season and come out as a style diva with grape n wine motifs all over the attire.

Orange Screen Print Saree on Begumpur cotton

Oranges symbolise the winter season and for those searching for quirky block printed cotton sarees, this Begumpur cotton saree with orange screen prints all over-represents the joy of winter. Team it up with a contrasting blouse to add to the wow factor. If you have an overcoat in the closet, put it on over this saree and flaunt it like a fashion diva.

Filter Coffee on Begumpur cotton

Sprinkle coffee and remember that it's winter. Create a unique fashion statement with this marvellous theme of filter coffee on Begumpur Cotton. If you love your coffee in the winter, you got to have this marvellous screen print attire which you will hardly get elsewhere.
A saree as it is said will never go out of style. Are you ready to make the heads turn this winter with light Begumpur cotton sarees that speak of the winter essence? Check our collections in various shades and styles in comfortable fabrics. Our collections are available right now, so visit here or send in your queries for bookings to info@dorabyphoenix.com and beat the chill.