The art of hand block prints on sarees has evolved over the years. Creating marvellous prints with carved wooden blocks covered with natural dye and pressed on the sarees to create beautiful patterns is what hand-block prints are all about. No wonder these sarees constitute the pride of India and represent the culture and heritage of our country. If you are searching for block printed cotton sarees online, you have come to your destination. At Dora By Phoenix, we have collections galore when it comes to choosing ethnic Indian sarees that appeal to women of all ages.
Do you know why Indian women crave hand block printed cotton sarees online? Here is what you need to know.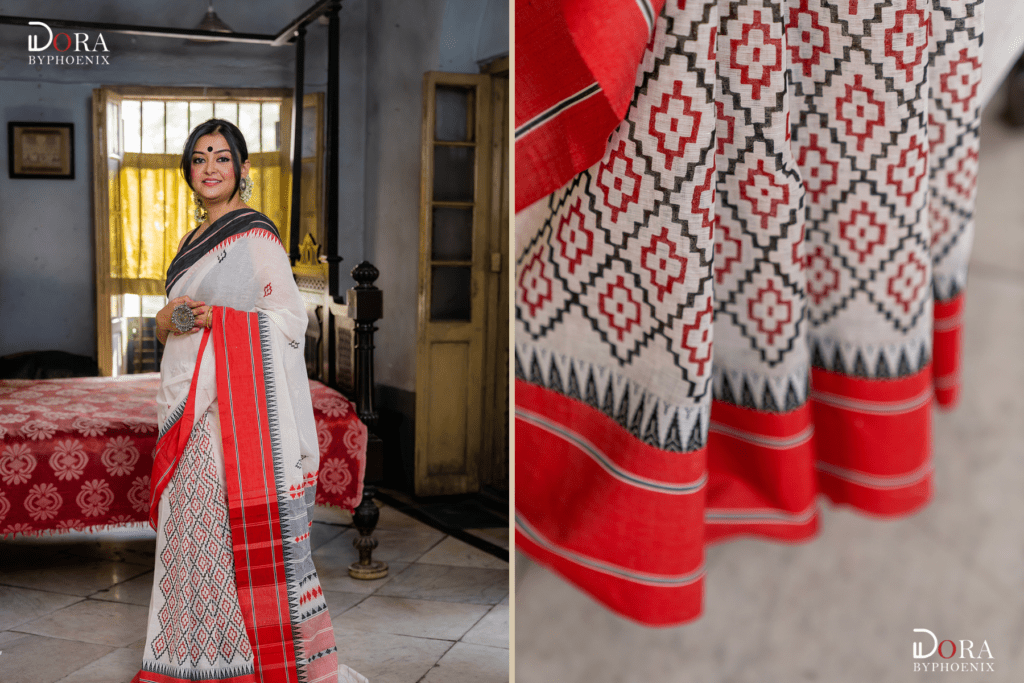 Versatile
With a wide range of designs and patterns to complement the feminine styles a hand block print saree is the perfect attire for women to flaunt on different occasions. Be it a day brunch, a family get-together, or for office wear, we offer an array of prints to choose from. For example, our Dodhimongol block print saree on Begumpur Cotton adds to the beauty of the serene morning ritual in a Bengali wedding. And if you want, you can wear it for a family get-together as well. Just team it with a red or black blouse and drape it for the occasion you are planning to deck up for.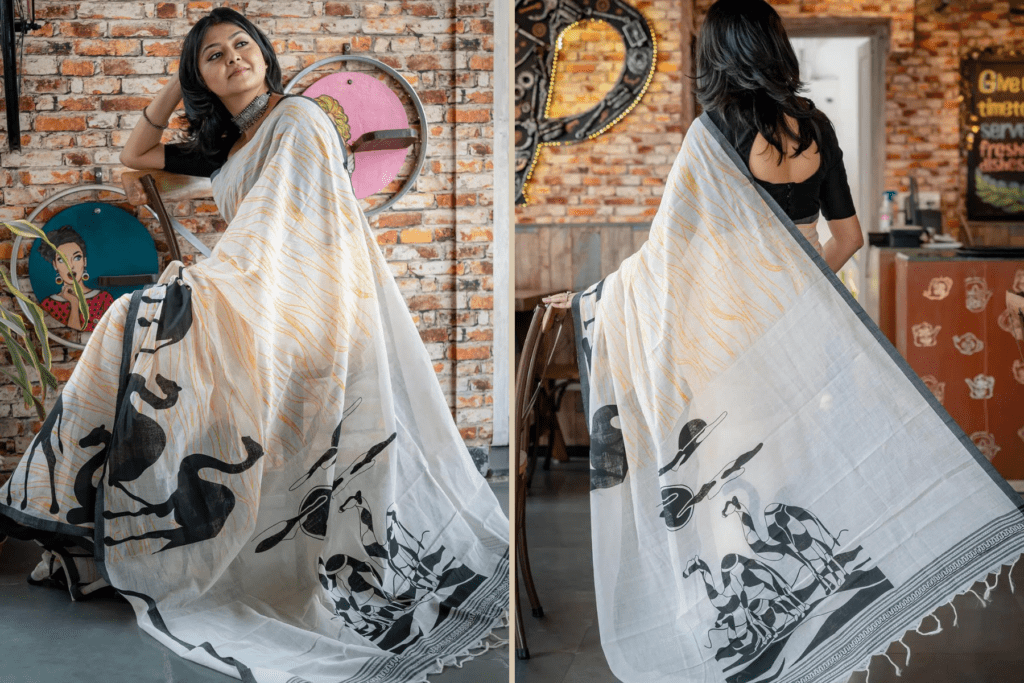 Comfortable fabric
Hand block prints on sarees have always been high on comfort and fashion. Available in a wide range of breathable materials and fabrics like cotton and linen, the freshness that these sarees bring is incredible. You can pick ethnic block printed cotton sarees from across the country. Block-printed attires have always kept fashionistas on their toes.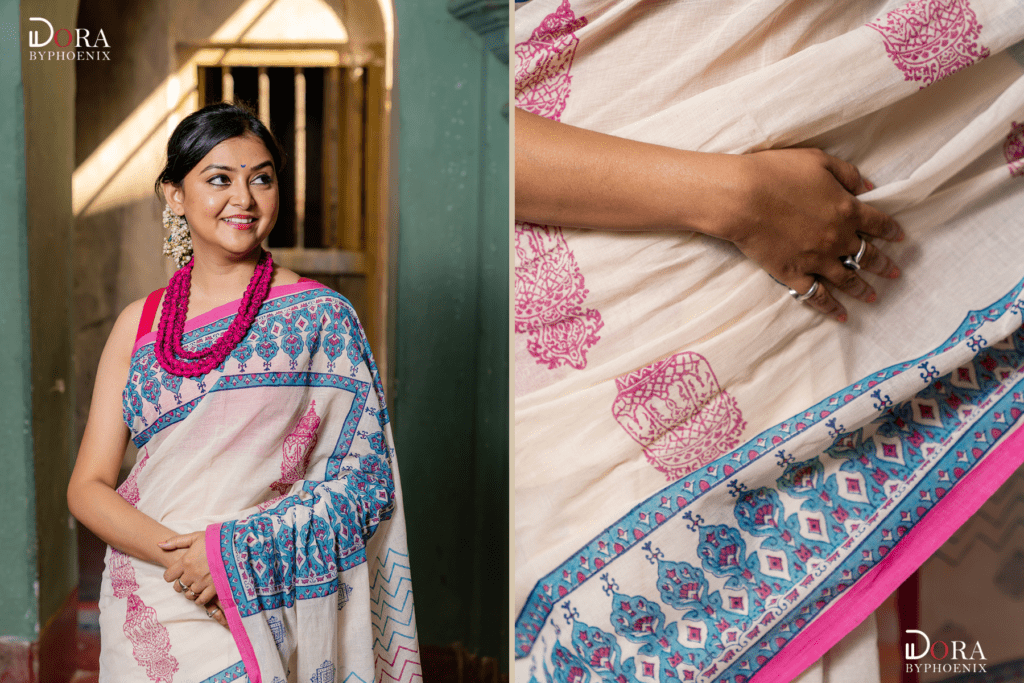 Style it your way
From ubiquitous colours to comfort level, the and-block printed cotton sarees are easy to style as well. Get a pristine shade with hints of blue and pink much like our Aiburobhaat Hand Block printed saree on Begumpur Cotton. Team this saree with ethnic pink jewellery to stay on top of the world during this special daytime occasion of a Bengali wedding.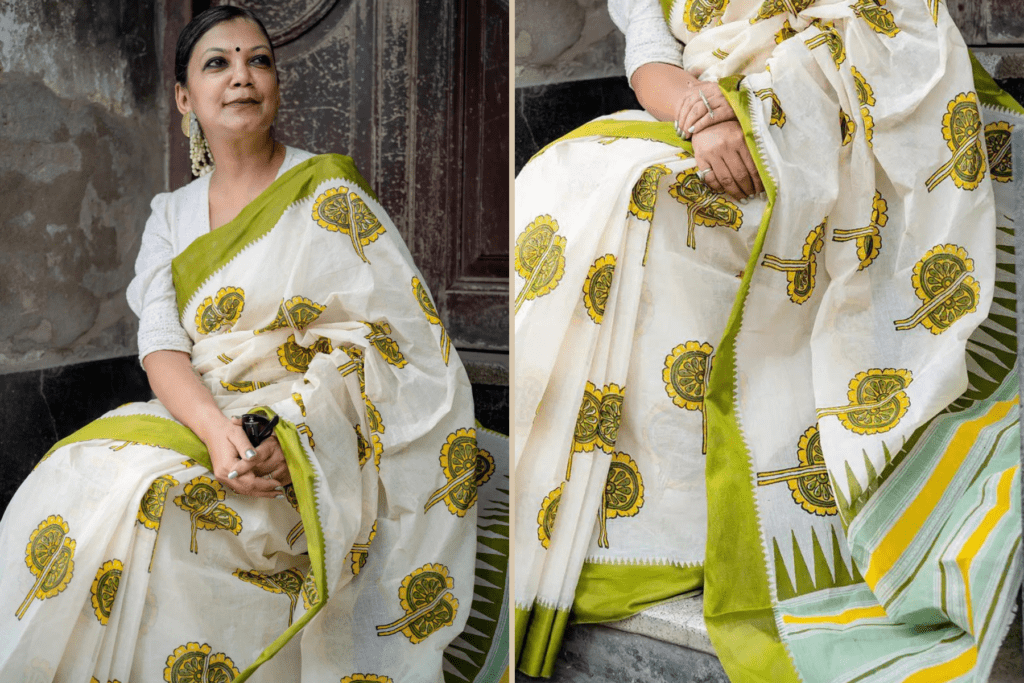 Pocket-friendly collections
Don't think that hand-block print sarees are too pricey to afford. While they are flexible on style, you will come across an equally good collection for every budget. The prices of these sarees largely depend on the complexity of the design, the print, the quality of dyes, and the fabric on which the patterns and motifs show. You can also get a screen printed saree online from us to complement the hand blocks.
During a time when sustainability is one of the major facets of the fashion industry, the Begumpur cotton sarees with hand-block prints mentioned above, seem to be the right choice for modern fashion divas. If you are planning to stock hand block prints on cotton from Dora By Phoenix, follow us on Instagram at dora_byphoenix and stay connected for our seasonal arrivals or email us your orders at info@dorabyphoenix.com today.
---