Are you planning to reinvent 'summer fashion' with quirky print on lightweight fabric? Well, we have got you covered! If you are a fashionista who wants to feel the whiff of traditional fabric and look different in the crowd, Dora By Phoenix brings you a world of unique printed cotton sarees online, and this time in Chanderi fabric. Our new collection– Printed Poppins is simple and suited for daily wear as well as for special occasions when draped in different styles. So pick from our all new collection and revive the charm of your saree love, even when the heat and sweat is killing you.
Here's a list of the top 4 best-selling screen printed cotton sarees from our latest collection to make your summer fashion a celebration of artistic skills: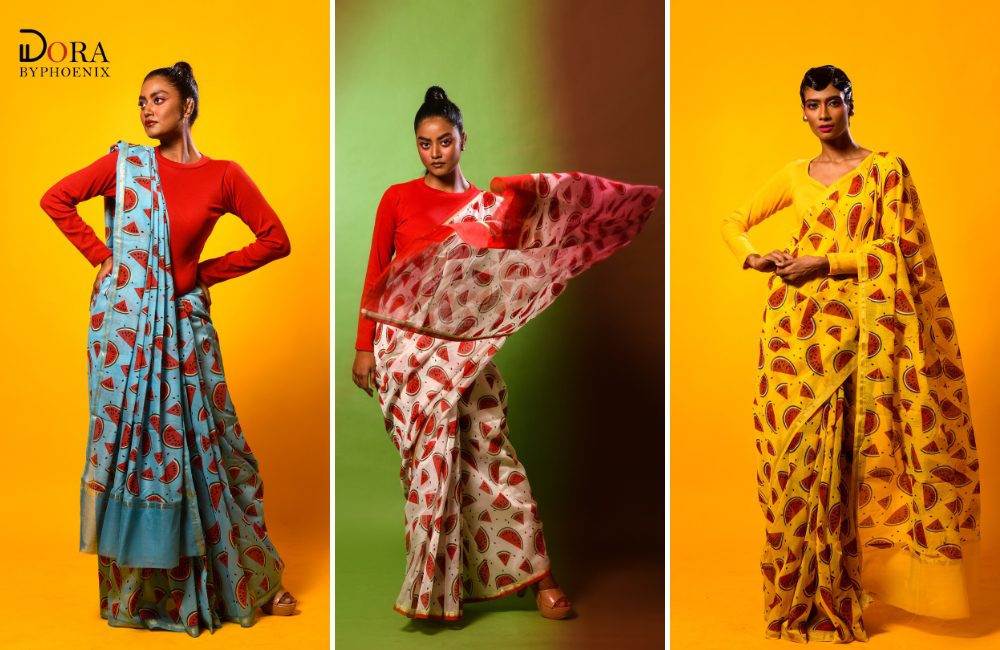 Watermelon
Remember gulping down the sweet red juice of watermelon to stay cool and hydrated during summer? Well, it's time to carry a similar feeling when choosing your saree. Reminisce your childhood days with our Watermelon Saree comprising red slices of the fruit all over. While the 3 different combinations seem incredible for creating a fashion statement, the fruity prints are fun to sport.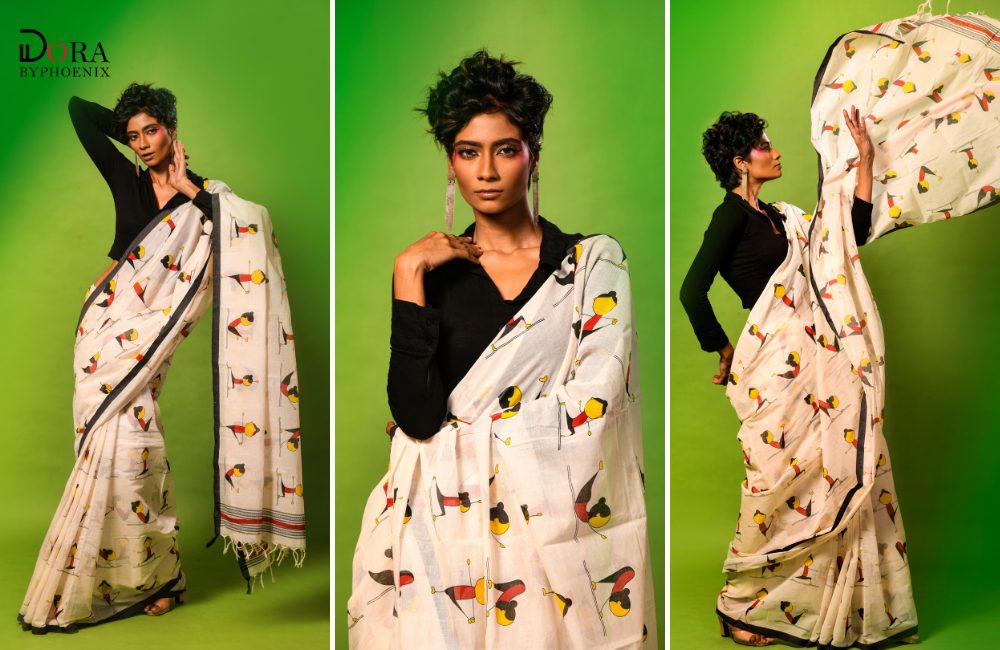 Yoga
Control your mind, body, and soul differently this time with our Yoga screen printed Chanderi saree from one of the best saree boutiques in Kolkata and immerse in the world of comfort. The combination of black and white with yoga prints are a celebration of life and good health. Just drape it the way you want when flaunting your summer fashion.
Suitcase
Summer is not travel-friendly unless you are going to the hills. Well, we have proven it otherwise for our fashion divas who love to travel and keep a few sarees in their bags when going for a tour. If you buy Chanderi sarees online, you cannot miss this gorgeous and out-of-the-box screen prints in beige and yellow. No matter where you travel, leave your Indianness behind with this uniquely printed saree.
Tom and Jerry
Remember the universally loved pesky cat and the notorious little mouse of the Tom and Jerry cartoon? A must-watch not only for the kids but anyone who loves fun, you get the same fervour through our beautifully-designed Tom and Jerry screen prints on chanderi cotton fabric. Available in two different hues pink and yellow as well as grey and pink, you just have to pick one to make your summer days fun much like the childhood vacation days.
Chanderi silk cotton sarees from our all-new collection Printed Poppins are an ode to the old times much like we have often done in the past to reinvent fashion. Now, you can feel the comfort of wearing breezy Chanderi sarees that present a sheer joy with fun prints and completes your summer fashion. What are you waiting for? Just visit our website and shop from our latest collection and celebrate life.