Nothing speaks more to women who adore the prints and patterns than sarees. And screen- printed cotton ones top the charts. Luckily, you will be spoilt for choices when you browse through a variety of printed cotton sarees.
Want to look exquisite and yet feel breathable with a screen print cotton saree? At Dora By Phoenix, you will find a selection of unique prints that will make you feel nostalgic and connect with your core.
Whether it is for special events or everyday wear, visit our online and offline store and explore the richness of our collection.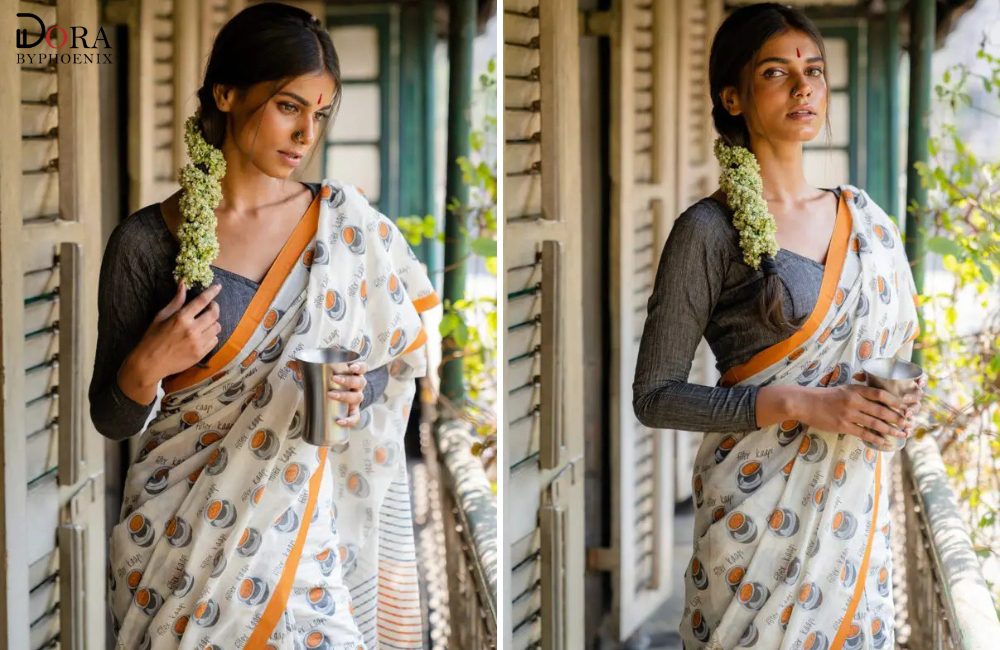 Filter Coffee

The name itself brings back the old-world charm, and the Filter Coffee screen prints on Begumpur cotton make you feel comfy and relaxed. The lovely white background with filter coffee motifs in orange and grey all over is sure to make you fall in love with the sense of ease and warmth that perfectly blends in this unique saree. If you have been looking for boutique sarees in Kolkata, make sure you grab a piece of this beautiful saree before it goes off the shelves.

Black Snowy Print

The combination of black and white has truly been a staple in every woman's wardrobe. Our Black Snowy Print is a classic pairing that reminds us of Tintin and his little bundle of joy Snowy, the ubiquitous dog. Keep the memories of reading your favourite comics alive with this versatile saree that will never go out of style. Be ready to spread fun and joy with this beautiful piece, if you are planning to buy Bengal cotton sarees in Kolkata.

White Watermelon

A perfect saree for the summer, the small red watermelon prints are sure to turn several heads around. This light and breezy Chanderi cotton fabric with screen prints has been one of our bestsellers this summer.

Peeli Chhatri

The rainy season is here and you need to pick sarees that are easy to maintain, with minimal prints and textures. Our Peeli Chhatri saree is an ode to the season, and a great choice for those who love to buy handloom cotton sarees online. The dollops of yellow umbrellas and white clouds against the light blue texture are what your heart will crave when you need to step out on a rainy day. Enjoy a cup of hot tea or coffee and spread happiness in the monsoon.
Sarees have always been a part of the Indian culture and legacy. At Dora By Phoenix, sarees have evolved in terms of designs, textures, patterns, and fabrics.  To find out more about our collections of screen-printed cotton sarees, visit our online shop or store and replenish your wardrobe for casual and formal occasions.