Autumn is here and you are already in the mood to embrace the layering season with style and flair, isn't it? The precursor to the cooler months signifies the autumn favourites and saree is one of them. Switching from summer to autumn styling is not tricky when you know how to address the demands of a colour palette. Eventually, all the sarees you choose come to signify the mood of autumn.
Have you already started reshuffling your autumn wardrobe? If you are yet to begin, don't miss exploring our newest collection at Dora By Phoenix. Our Sweet and Savoury collection shows that the best time of fashion is here. Sarees have always been the preferred attire of every Indian woman. No wonder, the availability of designs, fabrics, and colours on these breezy Chanderi sarees in Kolkata are the perfect attire for the autumn events.
Do you know which screen printed Chanderi sarees will make you look your best from dawn to dust? Discover our delicious and delightful Sweet and Savory Collection that will make you drool: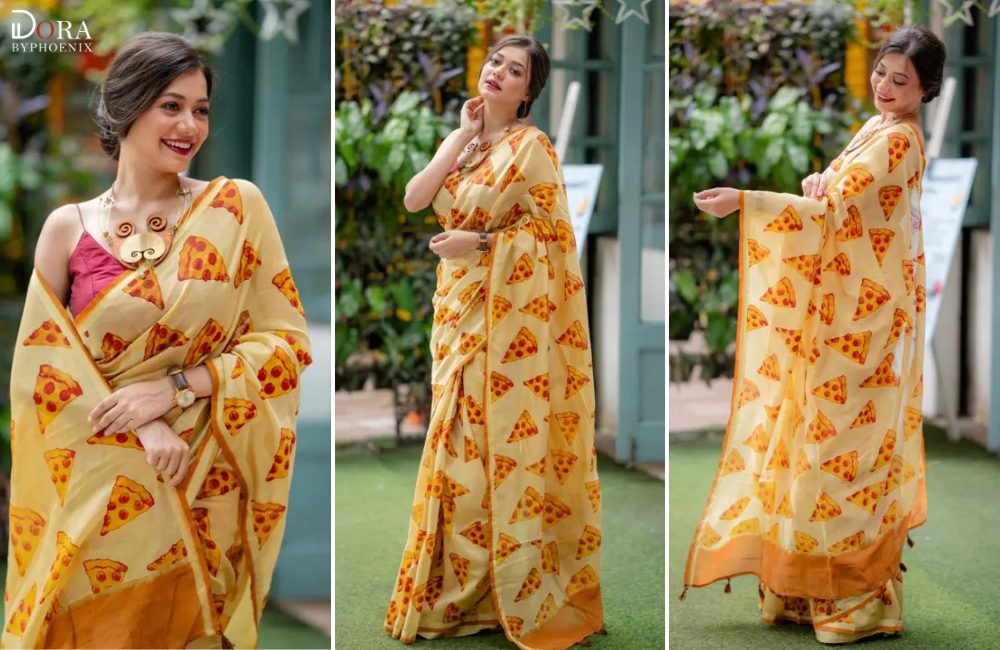 Pizza Print – Pizza Screen Print Saree

The pizza screen printed saree is a playful fashion choice, combining your love for this Italian dish and the elegance of traditional Indian attire. The vibrant yellow saree with the mouth-watering pizza design is a creative and delightful presentation that's sure to turn heads. Head to a themed party or a casual gathering where you need to stand out and express your personality through this gorgeous piece. Want to get a Chanderi saree online? Drop in to explore the visually pleasing and the appetizing effect of our collections.

Dessert Time – Cupcake Screen Print Saree

The green and pink cupcake screen-printed saree is a charming combination of creativity and colourful sprinkles. While each cupcake here looks like a miniature work of art, the pastel shade resembles the frosting. Drape yourself in this delightful attire and let fashion be as sweet and charming as your favourite cupcake. Your love for screen printed Chanderi sarees resonates with your love for desserts. Furthermore, you can indulge in another rendition of this saree featuring a lively yellow hue adorned with charming pink cup cakes gracefully embellishing the fabric.

Cookie Time – Oreo Screen Print Saree

Here is an opportunity to create a fun and unconventional fashion statement that beautifully blends the iconic Oreo cookie artfully printed on Chanderi. Can't get over your love for this sandwich cookie? Evoke the deliciously nostalgic appeal of your beloved snack with this handloom Chanderi saree that will be all yours from Dora By Phoenix. Are you ready to bring back the memories of your childhood? Visit our online store or drop by at Dora Studio to check the latest collections of colourful screen-printed cotton sarees and explore a fresh avenue to showcase your unique style. And don't miss the delightful surprise of another variation in this saree, elegantly showcasing a combination of mauve and white shades.

Barbie Girl – Popcorn Screen Print Saree

Remember the playful spirit of having popcorn inside the movie theatre? Now, get it on a Chanderi screen printed saree that adds a touch of nostalgia and playfulness to your attire. The beautiful pink colour creates the classic look of movie theatre popcorn, making this saree instantly recognizable, symbolising the Sweet and Savoury touch.
Are you searching for boutique sarees in Kolkata that bring out the classy look and trendy elements in your ensemble? Check our collections before you buy Chanderi sarees online to complement the season. It's time you embrace the beauty of sarees in autumn while staying comfortable and stylish.