Has your kid received a birthday party invitation and you need to accompany them to the occasion? You don't seem to be in the mood to pick those same old sarees that you wear to the high teas, wedding parties or office parties. Right? Don't need to look here and there as Dora By Phoenix is right here offering a colourful collection of adorable sarees that are a perfect fit to wear to kids' birthday parties.
Our delightful collections of handloom boutique sarees are a must-have for occasions where you will have children around and something that they will love. Here are 4 interesting cotton printed sarees to choose from to wear to a kid's birthday party. Plus, your lil one is going to love the print too. So, it's a win-win situation for sure!
4 Unusual Block Printed Sarees to Pick for Kids' Birthday Occasions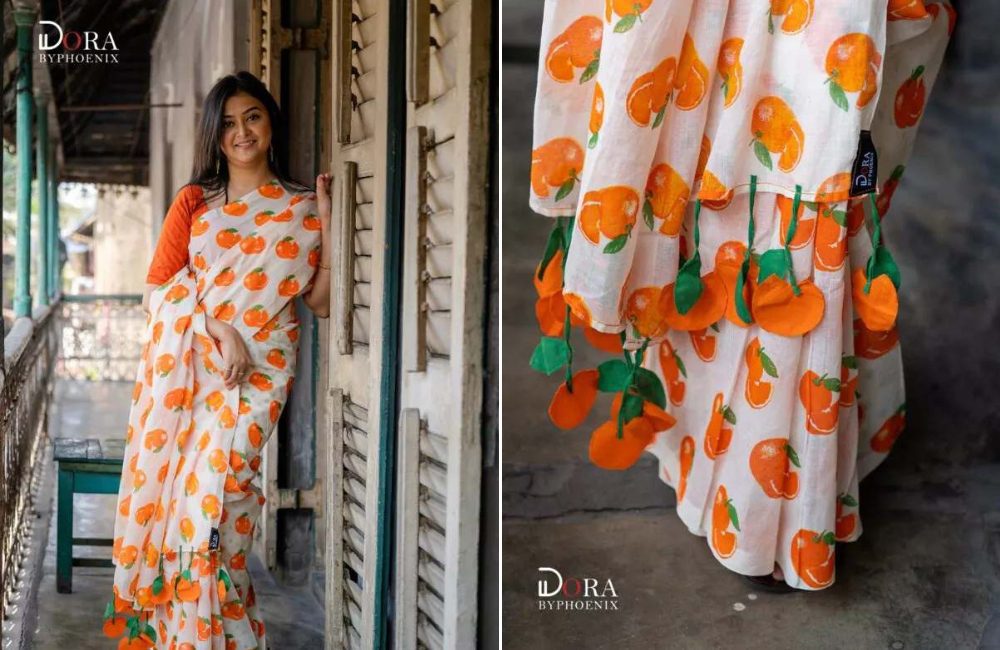 Orange – Screen Printed Begumpur Cotton Sarees

A perfect concoction of joy and vibrant hues is how saree lovers define this screen printed saree that tops the list when you need to pick a saree for kids' birthday party. What's more, children can relate with the fruit imprinted on the saree and can't stop loving it. The white saree serves as the perfect background for the bright-coloured oranges. Isn't it a great pleasure for children to see their mothers sporting sarees that they can easily relate to?

Peeli Chatri – Screen Printed Begumpur Cotton Sarees

"Pitter-patter raindrops, falling from the sky, here is my umbrella, to keep me safe and dry" – your child must have recited this nursery rhyme several times. Now, let your child and all other kids in the birthday party recite it again with this beautiful screen print cotton saree that brings back the old charm of nursery rhymes. Our quirky monsoon collection gets colourful with those bright yellow umbrellas and also tops the list for comfort that is a must when you accompany your kid to a birthday party.

Happy Snails – Block Print Green Cotton Saree

The hand-woven Begumpur cotton saree revives the charm of teaching your kid about various small creatures and the snail is one of them. We decided to have those happy snail prints on this hand block print saree for you to wear on kids' birthday parties.

Jingle Bells – Screen Printed Begumpur Cotton Saree

"Jingle all the way" is what you need to depict when attending a kid's birthday party. Wondering how? Flaunt our Jingle Bells cotton printed saree and you would know that it takes nothing to make children happy and cheerful. If the birthday party is in winter, you can get Santa caps and mistletoes to bring back the charm of Christmas.
So, you have it! All these four sarees from our collections are a perfect accompaniment for a kids birthday occasion. What are you waiting for? Visit the website and explore our collection. You can also explore other collections of hand block printed cotton sarees and club your order together and experience the sheer joy of flaunting sarees that set you apart in the crowd.