There is no denying that every Bengali is in awe of the fascinating laal paar and sada saree. We have all been watching our mothers and grandmothers sporting them during the festivities like religious occasions, the oh-so mesmerizing sindoorkhela on Bijoya Dashami, or even during special events, such as weddings or the thread ceremony. If you are a fan of this inherent love of Bengalis, you can't miss out on what we have in store for you at Dora.
Have you ever wondered that a saree is not merely an attire you flaunt every day or during special occasions? It is also about evoking those sentiments that have stayed amidst the competitiveness of experimenting with clothes. The traditional lalpaarshadasaree is much like a piece of Bengal encased in different quality fabrics. But if you want to buy laal paar sarees online, take a glimpse of our offerings. Wondering what makes this online boutique different than the rest? The major attraction is how we have maintained the classicism and the timelessness of these sarees and added a contemporary touch to them. Our sarees are such that you need not lock them up for each year's sindoorkhela but flaunt them everywhere including the workplace. Are you curious enough to sneak into some of these collections? We procure handwoven sarees from the local artisans to make you feel at home regardless of which part of the world you are in.
Collections to enthrall and restore the old charm
Let me tell you a story before narrating the collections. A friend of mine staying in the US got mad when she found her wardrobe barren while looking for laal paarshada saree to participate in the Dashami celebrations of which the sindoorkhela was 'the most' special attraction. She somehow managed to get one from her friend and let the occasion pass with the enjoyment and hullabaloo. But the very next day, I got a call from her and before I could greet her with "SubhoBijoya" she urged me to send her a few from our collections. The red border and the white body are an embodiment of Bengal cotton sarees in Kolkata. I sent her a few and seeing them she was elated!
For the rest of you in Kolkata, are looking forward to some alternative pieces in this theme, here's what you may add to your closet from our Hand Block Print Collection.
The Amar Uma saree celebrates the symbol of Shakti that empowers us to fight to through all odds. It celebrates the Goddess 'Uma'– that's present in every girland the block print on dhonekhali symbolizes the power within her. This would be our first choice when it comes to Lal Paar Sada Saree – a bit different but very us!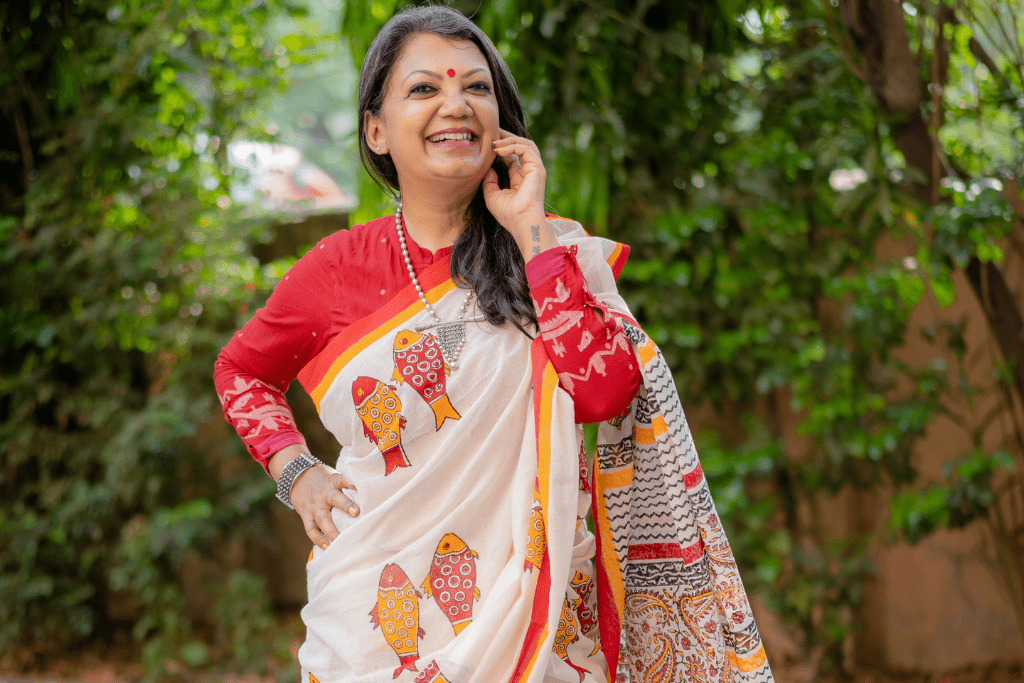 The ultimate machey bhaatey Bangali is now out of the plate and into your sarees. With hand block fish prints all over a soft Begumpur cotton, our Fish Fish saree is the perfect attire to sport even on a hot and sultry day.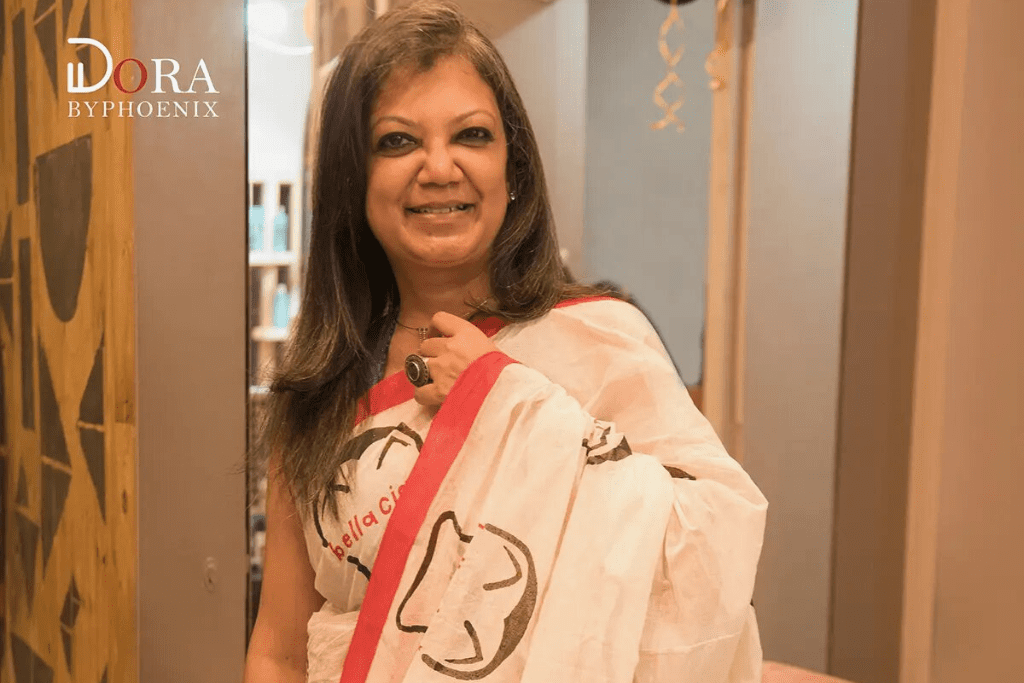 The last one of the lot has to be an audience favourite! I have lost the count of enquiries we received after this saree was launched. We got into the much-loved Money Heist trend and came up with the combination of Bella ciao and Dali mask screen print on mul cotton sarees. Are you ready to drape one?
If you have come this far, then let me tell you, it's only Dora where you can get such a wide range of collections befitting the culture of Bengal while keeping the quirk, fun, and uniqueness intact. Every single piece redefines the culture and the sentiment of the Bengalis and yet stays with the trends. Embrace your very own bangaliyana and evoke the spirit with our range of block printed cotton sarees. Email info@dorabyphoenix.com or check our Instagram handle for the latest update. Happy shopping!