There is no denying that every Bengali is in awe of the fascinating laal paar and sada saree. We have all been watching our mothers and grandmothers sporting them during the festivities like religious occasions, the oh-so mesmerizing sindoorkhela on Bijoya Dashami, or even during special events, such as weddings or the thread ceremony. If you are a fan of this inherent love of Bengalis, you can't miss out our handloom cotton sarees online and what we have in store for you at Dora.
Have you ever wondered that the traditional Bengali laal paar sada saree is not merely an attire you flaunt every day or during special occasions? It is also about evoking those sentiments that have stayed amidst the competitiveness of experimenting with clothes. The traditional laal paar shada saree is much like a piece of Bengal encased in different quality fabrics. But if you want to buy laal paar sarees online, take a glimpse of our offerings. Wondering what makes this online boutique different than the rest? The major attraction is how we have maintained the classicism and the timelessness of these sarees and added a contemporary touch to them. Our sarees are such that you need not lock them up for each year's sindoorkhela but flaunt them everywhere including the workplace. Are you curious enough to sneak into some of these collections? We procure handwoven sarees from the local artisans to make you feel at home regardless of which part of the world you are in.
Collections to Enthrall and Restore the Old Charm
Let me tell you a story before narrating the collections. A friend of mine staying in the US got mad when she found her wardrobe barren while looking for Bengali laal paar saree to participate in the Dashami celebrations of which the sindoorkhela was 'the most' special attraction. She somehow managed to get one from her friend and let the occasion pass with the enjoyment and hullabaloo. But the very next day, I got a call from her and before I could greet her with "SubhoBijoya" she urged me to send her a few from our collections. The red border and the white body are an embodiment of Bengal cotton sarees in Kolkata. I sent her a few and seeing them she was elated!
For the rest of you in Kolkata, are looking forward to some alternative pieces in this theme, here's what you may add to your closet from our Hand Block Print Collection.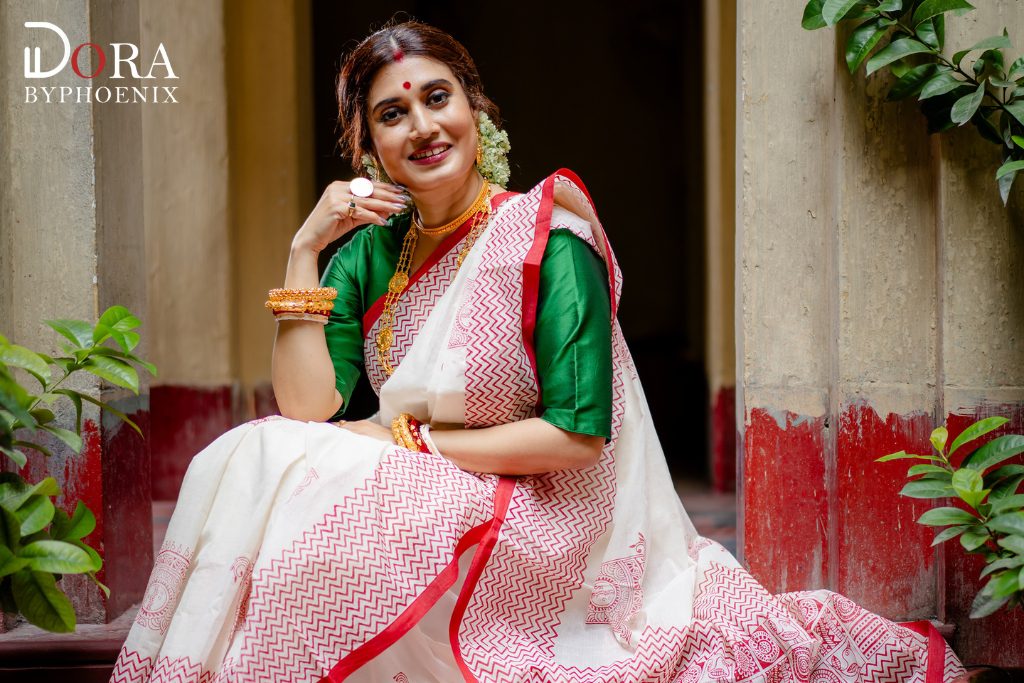 Recreate the classic look with this laal paar and saada saree with block print, an ideal choice for Lokkhi Pujo. The red bordered white saree also pays homage to the timeless beauty of actress Suchitra Sen, known for her traditional and elegant appeal.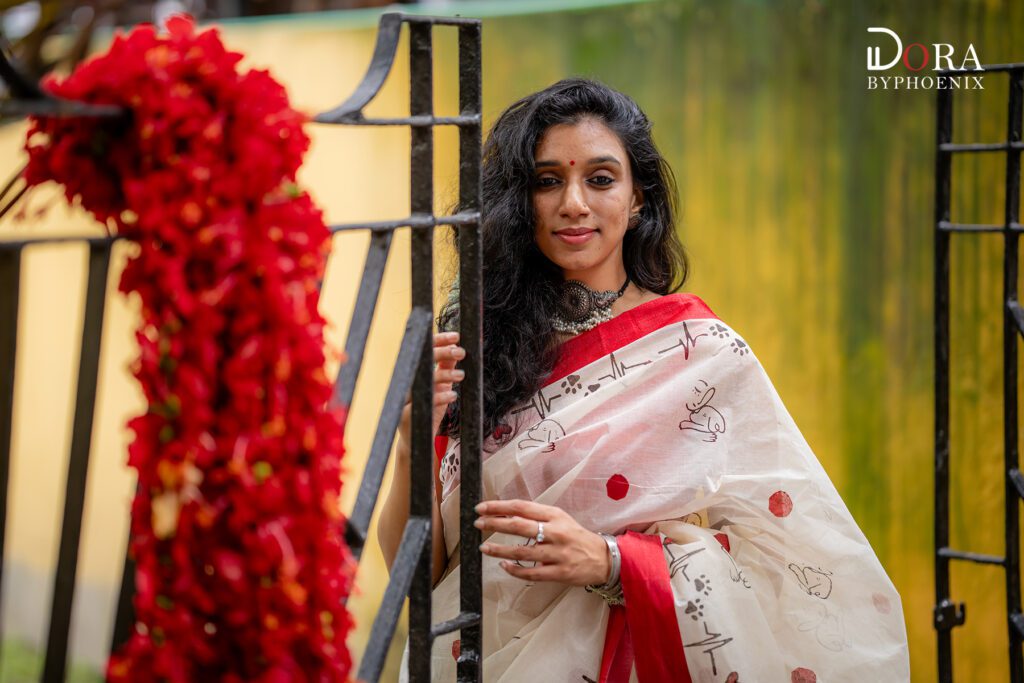 Presenting our exquisite Puppy Love Block Print, a cotton laal paar saada saree on dhonekhali. It isn't just the attire you will love to drape, but pays a tribute to the love and companionship between humans and their furry friends. So, dog lovers out there should feel special with this heartwarming fashion statement.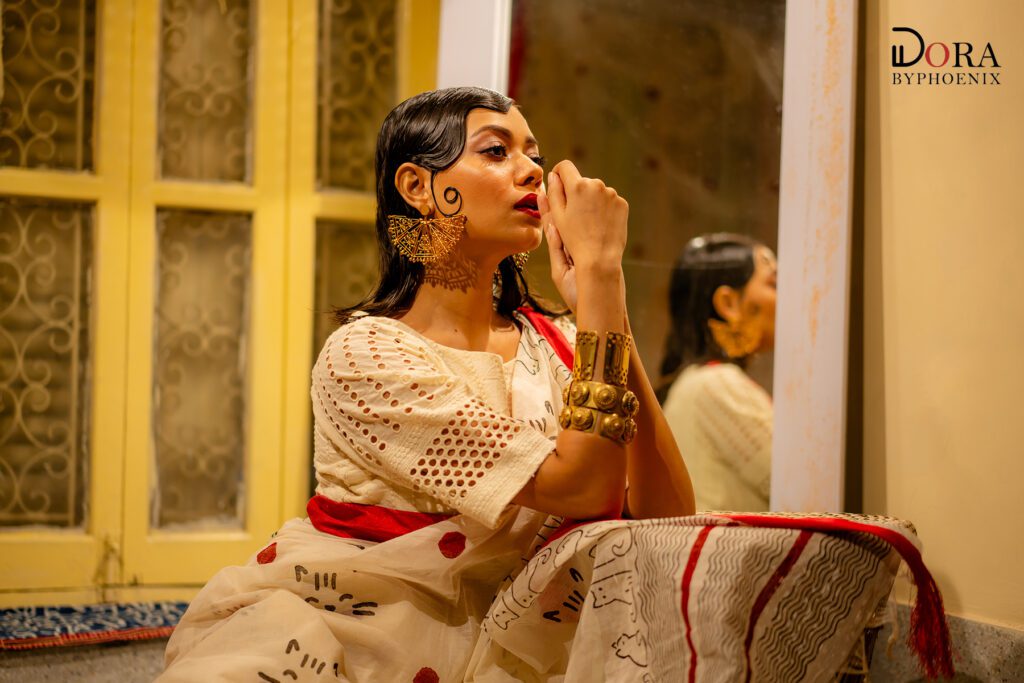 Let's reinvent the saada saree laal paar in this year's Durga Puja and dive into the world of quirky fun while taking your Bangaliana look to the next level. The playful cat prints present a canvas for creativity, although the feel is still rooted in our cultural traditions. The sporadic polka dots in red break the monotony of the white and when paired with a hakoba blouse, it will surely elevate the Pujo style to new heights.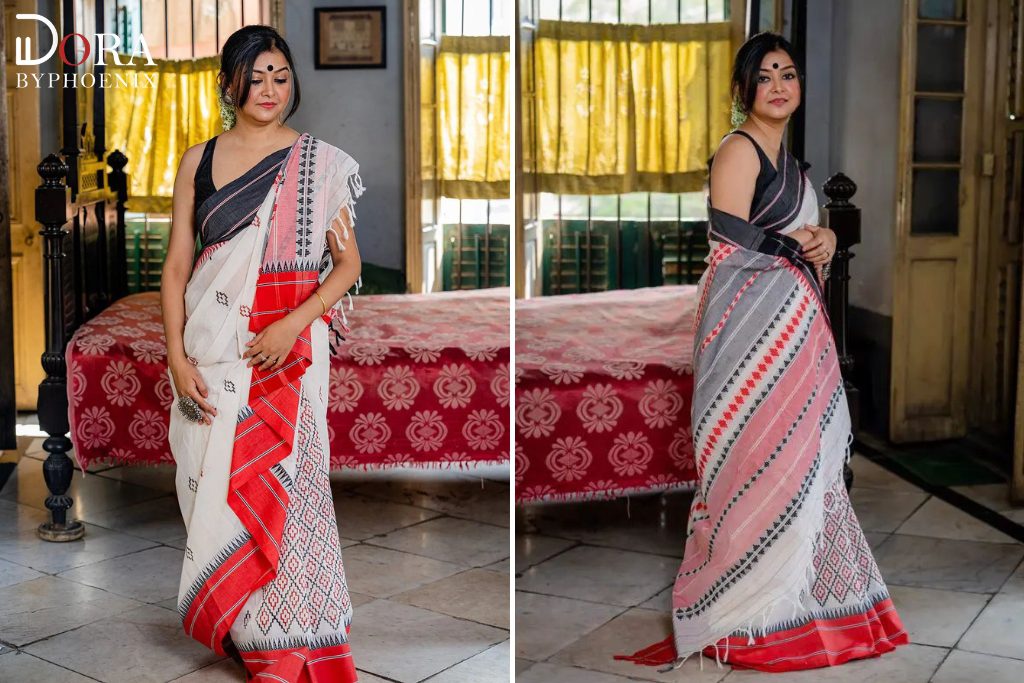 Embrace the tradition and serenity of Dodhimongol in style with this Bengali laal paar saree on Begumpur cotton. It is crafted in style and the perfect choice for the morning ritual on the wedding day. The vibrancy and the purity of this red bordered white saree infuses a unique feeling that women usually experience at the wee hours of the big day. The traditional ceremony marks the beginning of a beautiful journey, and what better way to celebrate this auspicious occasion than in style? We present this saree that is specially designed for Dodhimongol, where culture and elegance blend seamlessly.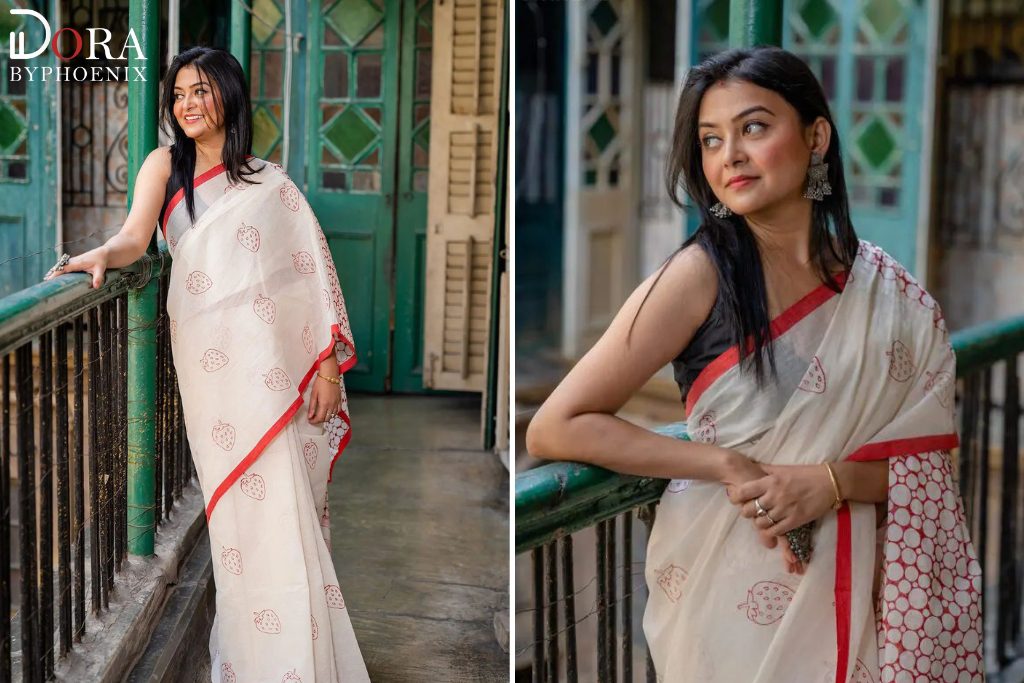 Are you ready to Elevate Your Winter Celebrations with a Festive White and Red Saree? As the winter chill sets in, it's time to infuse your wardrobe with the spirit of Christmas. We present you this captivating saree in red and white adorned with beautiful white and red motifs scattered on the body. If you are searching for boutique sarees in Kolkata, this cotton saree is the perfect choice to celebrate Christmas in style.
The Amar Uma saree celebrates the symbol of Shakti that empowers us to fight to through all odds. It celebrates the Goddess 'Uma'– that's present in every girl and the block print on dhonekhali symbolizes the power within her. This would be our first choice when it comes to Lal Paar Sada Saree – a bit different but very us!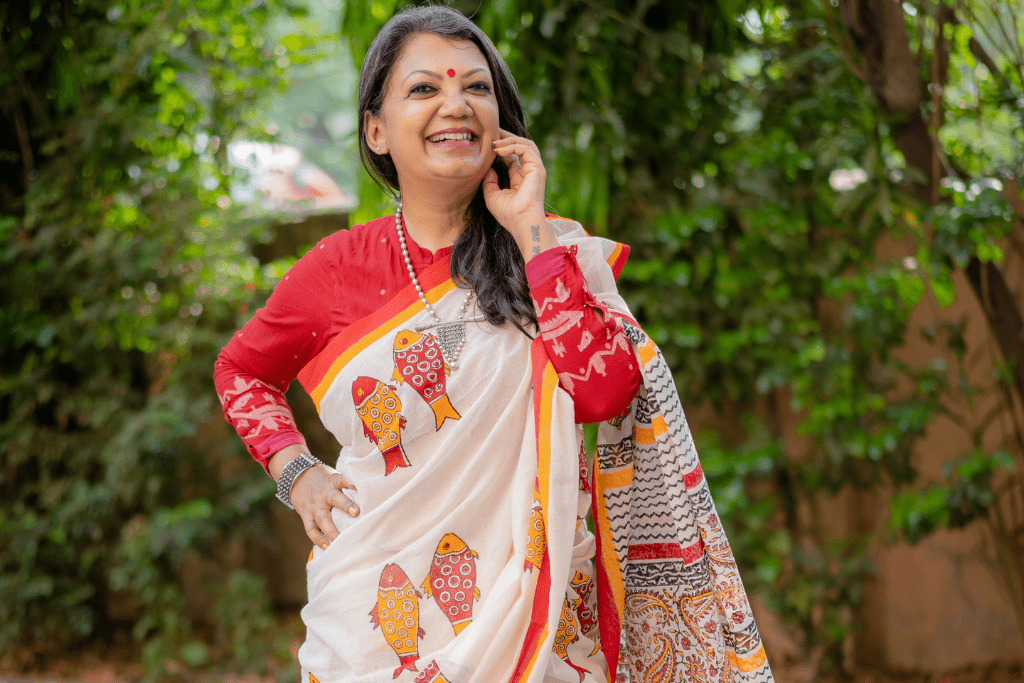 The ultimate machey bhaatey Bangali is now out of the plate and into your sarees. With hand block fish prints all over a soft Begumpur cotton, our Fish Fish saree is the perfect attire to sport even on a hot and sunny day.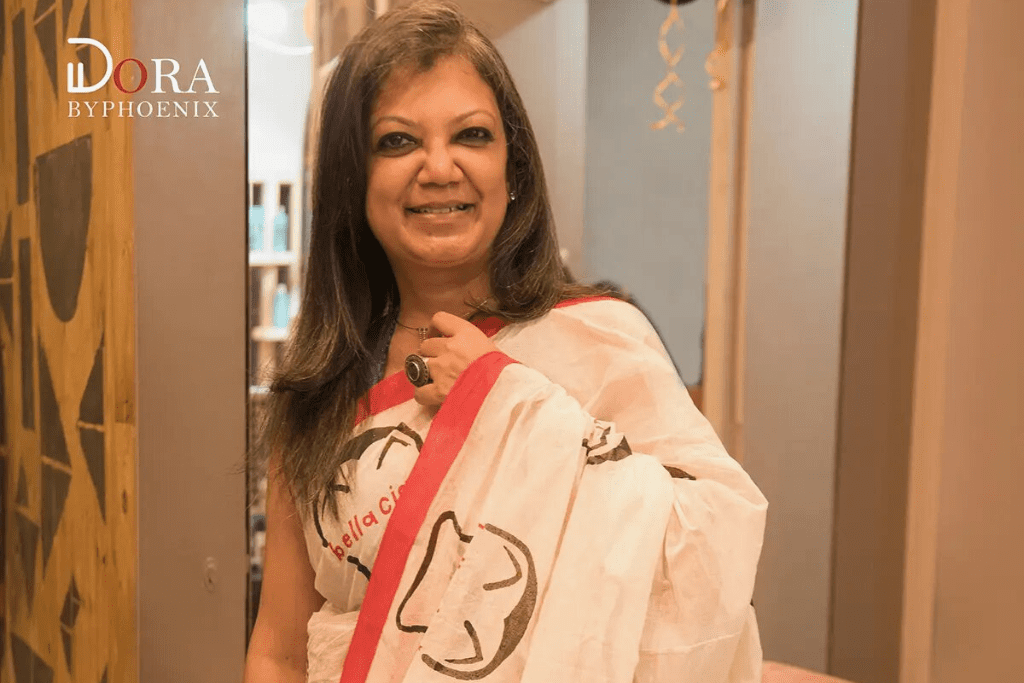 The last one of the lot has to be an audience favourite! I have lost the count of enquiries we received after this saree was launched. We got into the much-loved Money Heist trend and came up with the combination of Bella ciao and Dali mask screen print on mul cotton sarees. Are you ready to drape one?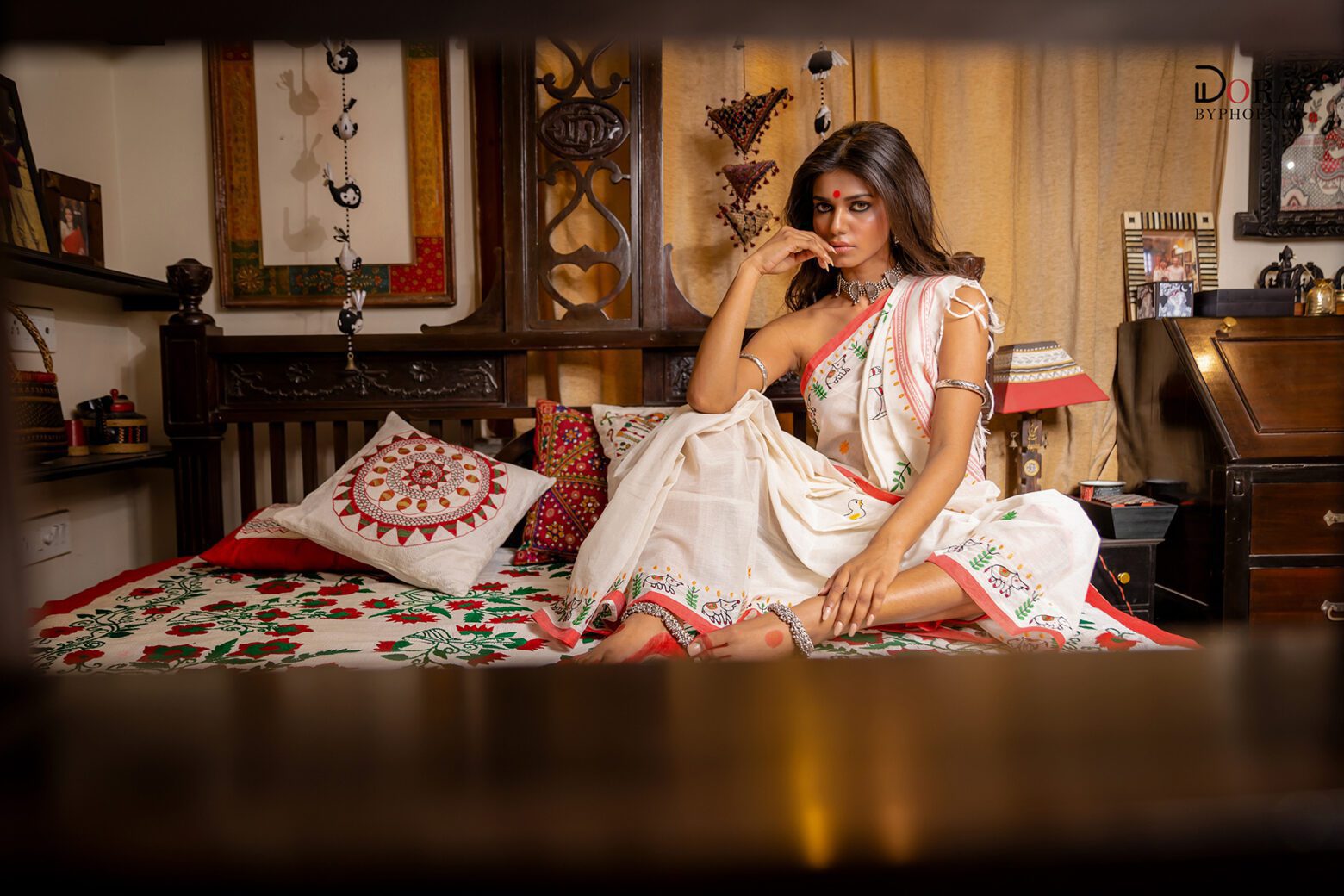 You have worn the tape frock as a child so many times, especially on hot summer days. Now, get back the same essence in the Tape Jama Begumpur Cotton Saree reminiscent of your childhood days. With small ducks, baby elephants, and little birds in kantha stitch on the border, you surely get back the tape jama comfort encased in a piece of stylish fabric. This laal paar shada saree with hints of green and yellow is a six-yard piece reflecting uniqueness all over.
Be it Ashtami day of Durga Puja or any other puja ritual, the laal paar saree on handwoven Begumpur cotton with vertical red stitches on the body and the pallu is a tribute to every Bengali woman's love for the laal paar shada saree, so authentic and so truly Bengali.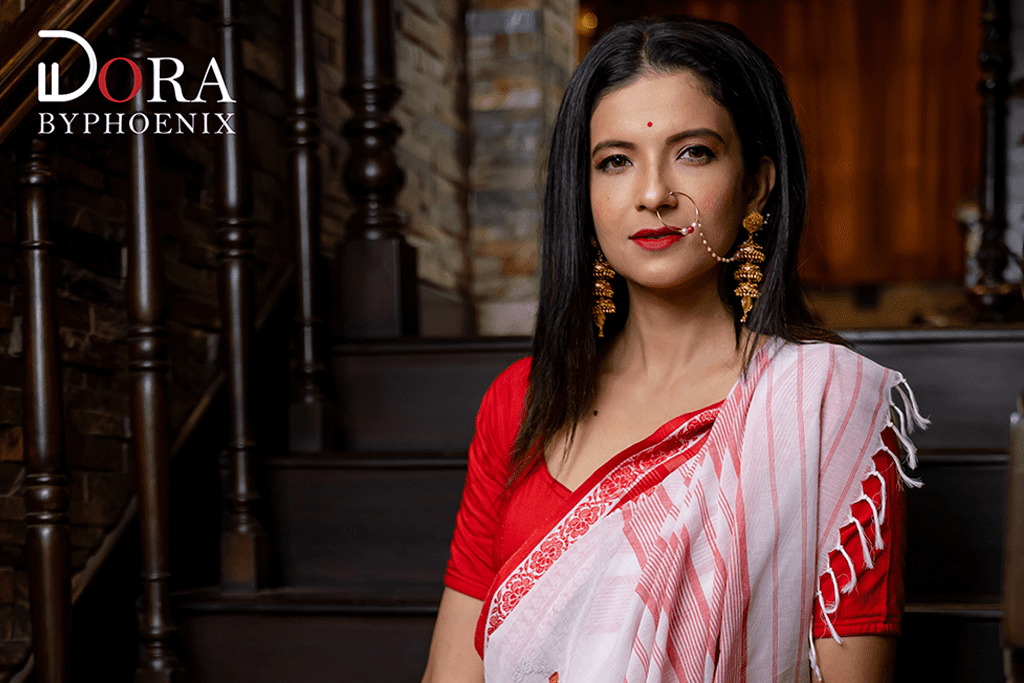 This Bengumpur Mahapaar in red and white with the dhunuchi naach symbols on the body is sure to make you dance to the beats of dhaak and what pride it is to showcase Bengal in full fervor. You can also flaunt this piece of six-yards on the day of Bijaya Dashami or any occasion where you want to showcase Bengal in its true glory.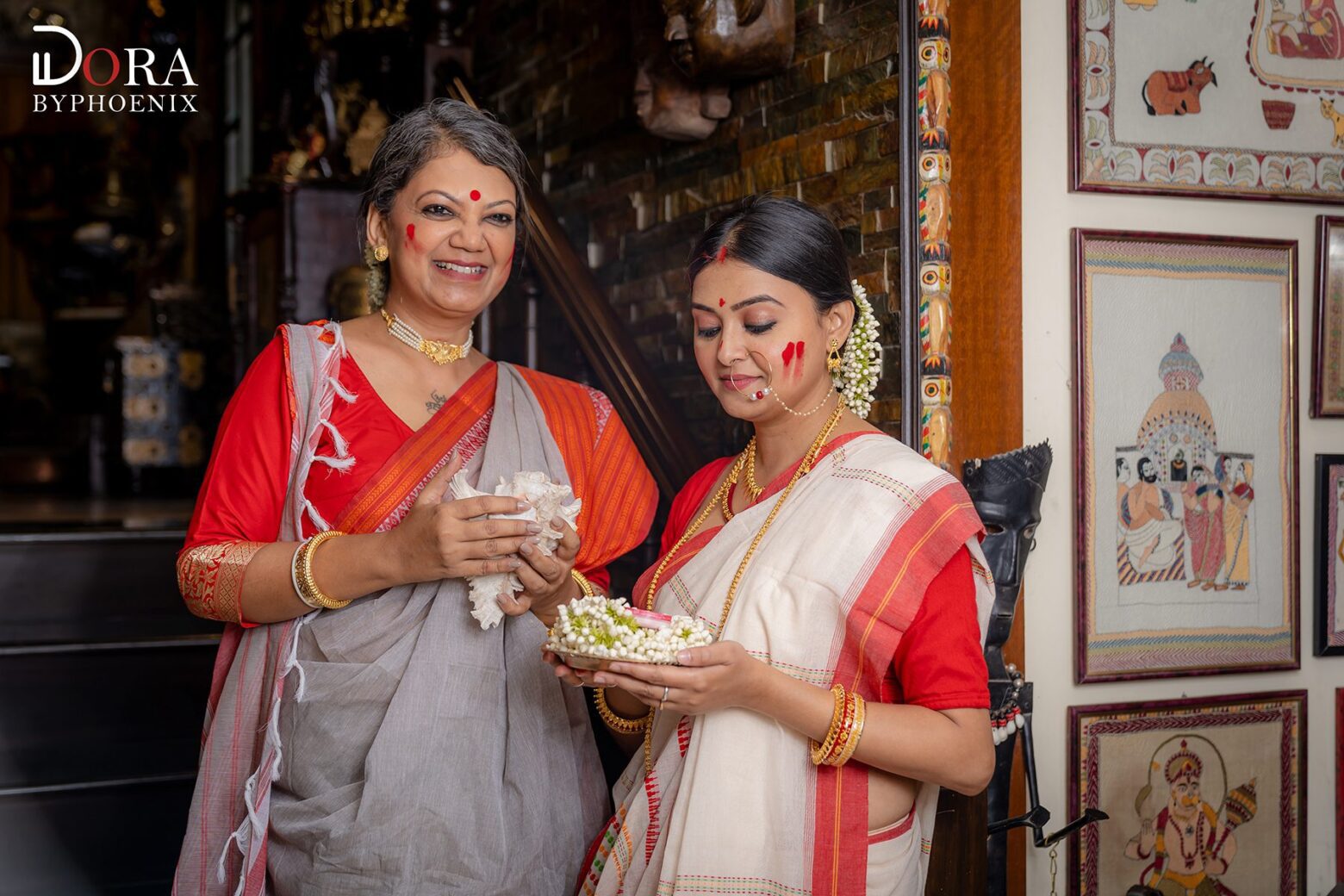 This truly Bengali laal paar shada saree on handwoven Begumpur cotton is a piece you cannot skip during the Bijaya Dashami celebrations. With a subtle thread work on the body in yellow, red, and hints of green, it speaks of Bangaliyana and the festive fervor.
If you have come this far, then let me tell you, it's only Dora where you can get such a wide range of collections befitting the culture of Bengal while keeping the quirk, fun, and uniqueness intact. Every single piece redefines the culture and the sentiment of the Bengalis and yet stays with the trends. Embrace your very own bangaliyana and evoke the spirit with our range of block printed cotton sarees. Email info@dorabyphoenix.com or check our Instagram handle for the latest update. Happy shopping!